! Created with Key Internet Publisher>
Peter Upton's
Subbuteo Tribute Website.
Miscellaneous items.
Official Range 1940s - 1960s.
On this page I'm rounding up all the bits and pieces that don't fit in anywhere else. Basically, anything produced under the Subbuteo logo that isn't in the regular ranges will find its way here eventually. There are now two pages of miscellaneous stuff, with items sold in the normal range (but without official numbers) on this page, while cross-over products, and unofficial items now on the third page.
1950s: Journey into Space/By Spacecraft to the Moon.
These two quirky action games have now moved to their own page - Peter Adolph's space games
1940s-1960s: Gummed number sheet(s).
These gummed number sheets were a permanent fixture in Subbuteo box sets from the earliest 1947 sets, until the early 1970s. The tiny little number circles needed to be cut out very carefully, before being stuck to the backs of the players with a bit of water. This worked well for card teams, but was less effective for the OO scale plastic sides, so many a heavyweight has been ruined by numbers stuck on with inappropriate glue. The sheet is the fore-runner to ref C129, which arrived in 1971 and improved the stickiness.
Unlike C129, this sheet also had sticky player positions (i.e. IR - inside right). These were designed to be stuck to player bases, and I actually have a couple of teams with these stickers still in place. In fact, I had the teams before I picked up this sheet, so it was nice to discover that these were real Subbuteo stickers. These showed the rigid formations of players and numbers in the post-war period. Mind you, I'm still not sure what an inside right actually did (this shows how football had changed by the 1970s-80s when I was a nipper.).
I've now illustrated the known variations on this set. The original small picture shows the familiar football version with red number circles, for the outfield players. It is in sets throughout the 1950s and 1960s. Picture two show the early version of this football set, where the numbers are black, and start with the goalkeeper circle numbered "1". The cricket version has lettered squares ("numbered alphabetical" sounds silly). There are only nine of these, figuring that the bowler and wicketkeeper did not need identifying. This sheet again seems to have a long run. Ashley Hemming sent me a photocopy of one from a very early cricket set, and I have since acquired an identical one in an early OO scale set. So again, 1940s-1960s seems about right.
The final picture shows a late sheet which was designed for use in both rugby and football sets. The cut-out numbers have returned to black, and the extra numbers needed for rugby have their own row. This sheet is harder to find - I'm guessing it was produced from the arrival of the rugby sets (circa 1967) to the arrival of C129 (in 1971) - even though set C129 doesn't account for rugby teams. It is certainly not common among the rugby sets that I have acquired down the years.
The lick and stick gummy sheet was also part of the full flat card team (set D), and also Set G, which was two press-out card team sheets. They were not advertised with the celluloid teams, or included with OO scale sides.

All sets listed as "complete" for the early period should have this item among the paperwork.
1950s: Stick on team badges.
"when references 1, 2, 10 and 15 are ordered together, a Gummed International Emblem Sheet is included free.
Although this additional gummed sheet was mentioned in the Subbuteo catalogues from 1949 until 1965-66, it remains one of the most obscure Subbuteo items out there. It was first mentioned to me by the sadly missed Stan Russell, who told me that when he played with the celluloid teams in the 1950s, his group played using red, blue, white and green figures and they were able to send away for a set of stick-on national badges to turn these teams into the home international sides.
The catalogues advise that you would be sent this sheet "free" if you ordered ref 1,2, 10 and 15 at the same time (i.e. Wales, Scotland, England and Ireland). I guess part of the reason it remains rare is that players would already have teams 1 and 2 in their original box set, and would not need to order them again.
December 2010: I've still yet to see an uncut version of this sheet, but at least I've now seen one of the badges. The lovely detailed Welsh badge shown above was spotted at the Table Soccer Exhibition in Essex in October 2010. Thanks to Jon Rosten for bringing this player along.
April 2014: Thanks to Ashley Hemming the remaining three badges are illustrated - and don't they look great?
February 2015: An uncut "gummed international emblems" sheet has finally appeared in collector circles. Unsurprisingly similar to the gummed number sheet shown above.
1950s: "Whispering Angels"
A Unique Revolving Table Ornament
Of all the crazy and quirky Subbuteo items that this website catalogues, this one seems the least likely. The above advertisement was obtained by Italian collector Pasquale Carrassi, and he believes that it dates from Christmas 1955. The leaflet explains the item thus:-
"A unique revolving table ornament. Glowing coloured miniature candles cause the little flying cherubs to tinkle Christmas bells for hours on end and add a mystic charm to the festive season. Rotated by rising heat this table decoration will fascinate your friends and family this and every Christmas.
Like the Bentrid Fishing Float shown below, this ornament was sold under the Subbuteo name, rather than Subbuteo Sports Games. Subbuteo Limited was the name given to Peter Adolph's plastic moulding company to separate it from the Sports Games, but this is an earlier product, and clearly not plastic.
An internet search of Whispering Angels does not bring up much joy, but Pasquale points out that this ornament is also known as "Swedish Angels". that search will bring up multiple pictures of these brass plated items, all of which match closely to this Subbuteo offer. They come in a variety of boxes, in various styles. One of the boxes states "Original Swedish Design since 1948", and also explains that the product is brass plated steel.
We have to assume that Peter Adolph was not manufacturing these items. The Subbuteo football range of the 1950s shows that Adolph was willing to include items from other manufacturers that he thought would be useful - i.e. the Smiths kitchen timer and the Croix glue. This 1950s-60s miscellaneous page really highlights how much Peter Adolph was always looking for the next big thing to sell. Alongside the space games, The Beatles figures, and the fishing float, this item seems a little less weird. Nevertheless, it is amazing that this leaflet only surfaced in 2022, and it makes you wonder what other items exist waiting to be found....
1960s: The Bentrid Fishing Float.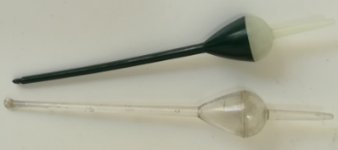 In Daniel Tatarsky's book "Flick to Kick" it is explained how Peter Adolph purchased the local Medway Tool Company in the early 1960s to increase his plastic moulding capacity. This new company was renamed as Subbuteo Ltd, as opposed to the existing Subbuteo Sports Games Ltd. Adolph then found he had extra moulding capacity, and started producing the figures for other toy companies such as Tri-Ang and Hornby.
However, this item shows that Subbuteo Ltd also produced its own retail items. These items belong to Italian collector Luca Genzano, but sadly we know little beyond what is shown on the advertising leaflet, where it is described thus:
"The New Bentrid fishing float is inexpensive, more efficient and more attractive in appearance" - vital for catching fish that one.
There were two types:
"For daylight fishing. Black with red orange and yellow tops. Price 1/- each (inc 2d tax)"
"For night fishing. Dark green with Amber, Pink and Green glow tops. These colours are highly luminous and specially manufactured. Price 1/6d each (inc 3d tax).
Available from all good angling tackle dealers.
Luca sent this extra photograph of a float still on its backing card. This was a Luminous float (although the colour seems to have washed out). The price looks like it had risen to 1/7d (or the shop was taking a bit extra profit!) The backing card states:
"Place top of float before electric light (car, torch or house bulb) before using." (It doesn't recommend Subbuteo floodlights for this purpose..... clearly something a bit brighter was required.). Not being an angler myself, I associate night fishing with... poaching surely?
Awards for Club Players.
As mentioned on the un-illustrated accessory list, Subbuteo produced a series of cups, plaques and medals during the 1960s and 1970s which were outside the standard accessory ranges, and aimed at Subbuteo clubs.
1958-1978: Plaque.
metal shield with engraved footballer on polished wooden base
A rather impressive looking item for Subbuteo clubs to hand out to as prizes. It cost 80p in 1976, which was just over the price of a team, and made a nice mid-range prize between the rosettes which were then 15p and the EPNS cups which started at £1.85. It's worth noting that the player on the plaque isn't on a Subbuteo base, so like the EPNS Cups, this could simply be a standard item from a local engravers and also used for "player of the year" awards in youth clubs etc.
Medals
with engraved footballer figure
The medals were another choice in the "Trophy" range. You had a choice of Bronze medal or Silver. The Bronze medal was the more affordable of the two - costing a similar price to the plaques above. The Silver medal was in the same price bracket as the medium sized EPNS cups. Like the other items in this range, the medals were introduced in 1958, and lasted into the 1970s. Thanks go to Ian Roberts for the superb photo of the bronze medal, which matched the blurred photo of this item from the 1958 catalogue.
December 2008: Thanks to Stefanos Kouratzis and Ashley Hemming who both sent me pictures of the silver medal in the same week.
As an interesting aside, Subbuteo sculptor Charles Stadden invoiced for work on a medal in April 1967. I do not know whether this was a replacement as the price/description of the medals does not change. It could have been done for a tournament. For the record, here is Mr Stadden's description - "Motif medal depicting in relief elation of player after scoring goal. 3" diameter motif modelled in relief in plasticine and wax."
1958-1979 EPNS Cups.
Thought I'd squeeze in further details of the EPNS Cup here with the plaque and the medal. They were introduced in the 1958-59 catalogue, which was when Peter Adolph first started selling awards for players. Whether these cups were actually marked up as Subbuteo, I don't know. It is possible that they were just standard trophies from an engraver close to Adolph's 1960s headquarters in Tunbridge Wells. (same goes for the plaque and medal for that matter). For more details on the EPNS Cups, please see the details under C162-C164 which were the numbers given to these cups for the final year of their existence.
1963-64: Footballer Favors.
Sculptured polythene football figures 3ins high on stand, hand painted in the colours of your favourite club.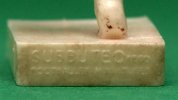 This was an collectable statue, which could be considered a forerunner to the C120 statuette. Like C120, the footballer is in a kicking pose, but this had a real 1950s look. It appeared (not illustrated) in the 1963-64 catalogue alongside the rosette (see below). The illustrated flyer for this item does feature in earlier dated sets (and is now fully illustrated), but it obviously did not last very long as it does not feature in other catalogues of this era that I own (i.e. 1961-62 and 1965-66). The statue was described as 3 inches high and cost 1/6d, which was cheaper than the 2/6d cost of a rosette. The flyer calls these "grand souvenirs of your favourite clubs". As with most Subbuteo items "all league club colours" were available, although at least here they admit to "approximate designs".
The back of the flyer offered a competition for all who purchased a favour. You were required to provide answers to six questions about your favourite club (nickname, honours, favourite player etc) and then say in less than fifty words why you followed your particular team. In the 1960s you had to earn your prize - there was none of this multiple choice "name the team in red who play in Liverpool" rubbish you get on the TV these days.... At least the prize was worth the effort as it was a season ticket to your favourite club.
I am assuming that the almost Americanised "Favor" was simply an attempt at a name that could be trade-marked. In the 1950s-60s, "Favours" was a name given to any of the supporters merchandise that could be purchased outside the ground - badges, pins, scarves, rosettes etc.
July 2021: Site regular Pasquale Carrassi has kindly sent a picture showing a Favor still in its packaging, which I had never seen before. It is interesting to note that this is in an early "bubble" pack, which no other Subbuteo products were at the time (and compares to the simple box produced for the Rosette). I am guessing that as this was a product unrelated to the game, there was no need to tie the packaging into the standard range.
The short life span suggests that the favors were not a success, and indeed, they are a rare item for collectors these days. Still, it did not stop Subbuteo having a second go, and producing the C120 statuette in 1969. That was a much nicer object all round. Why the Rosette was a success, and the "Favor" wasn't can only be speculated on. The Favors seen online do seem to have trouble with paint loss (even the one still on the card shown above). Possibly like the large scale Beatles figures of the period, Peter Adolph struggled to find a paint that wanted to stick to the product. This would have been an even bigger issue for the Favors than the Beatles, whose suits were kept the blue colour of the plastic.
Pasquale also sent in these pictures of an unpainted Favor, which show off the fine sculpt of the figure from a variety of angles. It also highlights the fact that the player wears a classic English football kit of the 1940s-mid 1950s era, before the new "Continental" kit that the football rosette figure (and old heavyweight) wear. This is a proper old school outfit, with collar, rolled up sleeves, and baggy shorts. Great stuff.
1963-76 Football Rosette.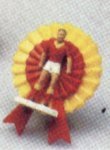 This item was a hard plastic rosette with a hand-painted player in the middle, and was available in any of the team colours in the standard range of the period.
It was introduced around 1963, and originally appeared alongside the favour statue, It then wandered around the price lists for a further decade in search of a reference number! It is often mentioned near the "awards for club players" section where it was very much the cheap option. However, the above pictures illustrate what an impressive little item the rosette actually was, and I imagine it would have been quite satisfying to win one of these in a tournament.
It appeared in the catalogues until the end of the A-Z range in 1975-76, and was still advertised as available in all colours, which would give it a 1-190 range. However, like the C120 Statuette, unsold stock in collecting circles seems to indicate that the 1972 range of 1-81 (plus 1970 World Cup sides) will cover 99% of the rosettes you might find. As with the statues, teams up to 190 were probably done on request, and might surface from time to time. One of the later teams that has been sighted is the ref 93 Roma as shown above in an Italian catalogue.
The rosettes were sold in boxes or bags. There are actually two types of box. The plain version has writing in front of a picture of the rosette in white on both panels. The second box has this design on the back, but the front has a diamond shaped hole, so you can see the colours of the rosette you are buying. Whilst the later bag definitely looks part of the Subbuteo range, the boxed version plays down the Subbuteo link. I have been told that these rosettes were available from the sellers outside of grounds on match days in the 1960s and 1970s along with the usual unofficial scarves etc, and this is perhaps why this item is rarely found within old collections of Subbuteo.
The rosettes now have their own gallery page - Football Rosettes Gallery
1964-65: The Beatles.
This set is regarded as the most valuable item ever made by Peter Adolph's company, mainly because they are desired by the multitude of Beatles fans rather than just the small, loyal band of Subbuteo collectors! Richard Payne's book "Fifty Years of Flicking Football" states that Peter Adolph met the group, and manager Brian Epstein at The Park Hotel in New York, and signed an agreement to manufacture and distribute.
The set doesn't actually mention Subbuteo on it, but it is advertised on the back of the Subbuteo Companion Games catalogue of October 1964 (see the middle illustration above). The band members are 2.5 inches high, so alas they are not the correct scale to provide half time entertainment at a Subbuteo ground. The advert states that Peter Adolph has "exclusive manufacture approved by the Beatles", and the story goes that he met them early in their career, and got the deal before they'd become really famous. The advert also states that this is "number one in the series", but no other scale pop stars seem to have been produced - shame. A big thank you to Lorenzo Carloni, who provided the excellent photo of this set.
Legendary figure designer Charles Stadden designed these figures for Peter Adolph, and his invoices give a fascinating look at the production of this set. The customer at the time was Eric Design and Promotion, rather than Subbuteo Sports Games. This probably relates to George Erik, who was Subbuteo's development manager.
18 November 1963 Set of "The Beatles" with separate heads and guitars. Prototypes made with heads attached for purpose of sample. Will be returned for cleaning and separating at no extra charge. (the Beatles cost £15 each, and the three guitars £2 each for a total cost of £66.
16 December 1963 - Colour drawing for stick-on labels. Full colour. Cost £6.
?? December 1963 - Colour drawing of Beatles Drums 1 1/2 scale. Cost £4.
6 January 1964 - Cleaning and polishing patterns. Fixing guitars to bodies. Painting figures in colour. Painting guitar faces in detail to represent stick-on labels. Cost £3.
3 February 1964 Line drawing of John Lennon for advertising. Cost £2. (and it is a lovely likeness too!)
That's the Beatles in production, but planning for the rest of the series carried on a little longer.
14 April 1964 - Subbuteo "Pop" series. Pattern figures carved and engraved in whitemetal.
Cilla Black £15.
Microphone £6 10s.
Dave Clark £15.
02 May 1964 - Subbuteo "Pop" series. Pattern figures carved and engraved in whitemetal.
Freddie of the Dreamers £15.
Gerry of the Pacemakers £15.
Sadly, none of these extra figures came to pass, but then perhaps it isn't a surprise. Only the Beatles were a real worldwide phenomenon, and perhaps there simply wasn't a big enough market for the other stars.
For further details on the designer of these figures please visit my Charles Stadden page.
1960s: The Beatles Official Pins.
This is a variation on the Beatles theme, and another example of Peter Adolph using and re-using his mouldings. The hard plastic white rosettes come from the standard Subbuteo football version (shown further down this page). The picture above hopefully shows the excellent detail on the castings, and the wonderful guitars. The four Beatles are named across the display card, and rather fairly I think, all four have sold the same amount on this card. The price written on the top of the card is a very reasonable 5 cents, suggesting an American origin of course. Expect to talk to your bank manager about a slightly larger amount should you want one of these nowadays. Just stunning. A huge thank you then to Stefano Garavelli, who was kind enough to send these pictures in.
If we return to Richard Payne's book, (and the author met and interviewed Peter Adolph on many occasions), Adolph and his wife sold the Beatles figures "cold" in America. Whilst the book only mentions the box sets, I assume that means the pins as well.
April 2014 Another card of Subbuteo pins has surfaced - this time with the rosettes in red.
Just when you thought that every Subbuteo item ever produced was nicely catalogued on this website another strange and wonderful item appears.
The "U-Paint" outfit appeared in small quantities somewhen between 1965 and 1968. I've had two similar reports of this set. The box set illustrated here was bought in a sports shop in Birmingham (called Perry's!) and other sets came from East London. Both people who had these sets as kids remember buying lots of them and painting like mad, so I've no idea why the sets did not get a longer run.
In the Birmingham version, the name of the set was stuck on to an older box set, and it was described to the buyer as "an experimental line". Inside the box were two teams of players still on their sprues. These could be either white or flesh coloured plastic. In the flesh coloured sets even the goalkeepers were flesh coloured, which I'm sure is unusual for heavyweights. The bases came separate to the figures, and were red and blue, although the London sets had white outers. In addition to this you were given a tube of glue, some paints, a brush, one of the old large balls, and some cheap goals.
The paints were contained in little see-through capsules, nicely described as "like cod liver oil drops". These were apparently really awful gloss colours. The goals were solid plastic, and only 2cm deep. As the ball has a diameter of about 2.5cm, the whole ball cannot actually cross the line using these goals. Opps.
The great advantage of these sets was that the whole thing cost only a few pennies more than a complete team, so the buyer was effectively getting the teams half price. That and having a nice empty canvas to work on. This was important as team kits were beginning to change in the 1960s, and Subbuteo weren't all that quick in catching up.
For later miscellaneous stuff including - follow the link.
---
[ Main Page | Next Page ]